Born after a bike and canoe trip between France and Vietnam, designed and manufactured in the south of France by a team of enthusiasts, Mekong packrafts are both rooted in the territory and adventurous at heart.
Mekong, the only packrafts made in Europe
A few steps from the Drôme river, in a former textile factory converted into a shared workshop, Olivier, Médéric, Kevin, Rob, Jean-Baptiste, Edwige, Camille, Quentin and Nathaël here carry out all the tasks necessary for the creation of packrafts , from 3D modeling to out-of-the-box testing, through prototyping and manufacturing. It's already an adventure in itself!
Our story, between the Drôme river and the Mekong Delta
January 2018. After 8 months on a bike between France and South East Asia, Olivier, the founder of Mekong, decided to swap the pedals for the paddle, and go down the mythical Mekong River with four friends, from northern Laos to its mouth in the South China Sea.
Filled with enthousiasm, and with the hold full of rice and oui-ce-ki the five fresh-water sailors embarked on the original Pablo WHISKY BAR, a 13 meters long wooden boat, for what was going to be the adventure of a lifetime.
During this journey the idea of manufacturing an ultralight boat, strong and big enough to carry enough gear for a long time on the river, (bicycle included!) was born. Back in France, Olivier starts to work on a first packraft prototype. Sourcing, design, manufacturing, testing…. The road is full of pitfalls but progress is made!
Five years later, the project has really grown! The team has expanded and new packrafts have joined Pablo and the Mekong Crew. The story goes on !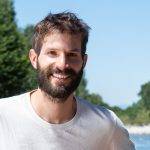 Olivier is the founder of Mekong. Back from a bike and canoe trip between France and Vietnam, in 2018 he started making packrafts to quench his thirst – and yours – for adventure and freedom.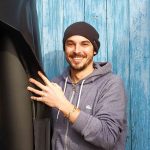 Coming to settle in the Drôme after having crisscrossed the tropics, Médéric and his nimble fingers are in charge of making your future packraft and of Mekong's communication on social networks.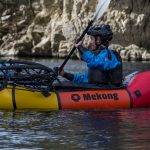 The local team member, living in Drôme for generations! In his spare time, Kevin models for Mekong. Expert in high-frequency welding, he is also in charge of shipping packages.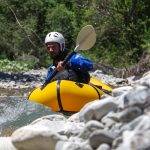 With a doctorate in physics, Rob is a white water and outdoor travel lover. Co-manager of Mekong, he is responsible for prototyping, purchasing and commercial follow-up for English-speaking countries.
Another who is on the move! Puppeteer in Turkey, French teacher in Buenos Aires and Chad, pizza maker in Patagonia, guardian of a refuge in the Alps, Isabelle and her double life as a secret agent have traveled the four corners of the globe.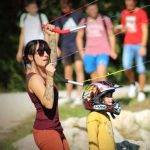 Lover of nature and thrills, she varies her passions between mountain biking, fishing, hiking, motorcycling, caving (…) within our beautiful region. A seamstress by trade, she also takes care of meticulously making the accessories for your packraft.
From design to after-sales service, including manufacturing and testing, we carry out all of the steps necessary for the production, marketing and maintenance of your packraft. Performance, robustness, innovation, aesthetics, practicality are the objectives that drive us.
Let's be honest, it would be easier to outsource manufacturing to Asia. However, beyond our personal convictions, the fact of mastering the entire process allows us to offer you packrafts at the cutting edge of innovation and to guarantee you flawless quality!
Are you curious and want to know how your next adventure companion is made? Follow the guide or come and see us in our french workshop!
Do you like adventure, freedom, outdoor travel? Do you recognize yourself in our mindset and values? Do you have ideas, criticisms? Do you need a boat to make the trip of your life but not a penny in your pocket? We are regularly looking for people to strengthen the team, ambassadors to promote the Mekong brand or even partners to help us grow!
So don't wait any longer, contact us by email at olivier[at]mekongpackraft.com or by phone at 07 62 75 95 81!
See you soon🙂
The Mekong team